The AM17 Atlantic Margin 2017 survey is situated between 62-66 degree North, in the Norwegian Sea. Møre Basin within the central part of the greater area, is an elongated SW-NE trending rift basin associated with the opening of the North Atlantic during Cretaceous time.
The 3D survey covers 40,000km2 of mostly open acreage acquisition, and is comprising a variety of play models from rotated Jurassic and Cretaceous fault blocks, to stratigraphic and structural traps in Paleocene and Cretaceous turbidite/fan deposits. The central and Western part of the area is influenced by volcanic activity (sills and basalts).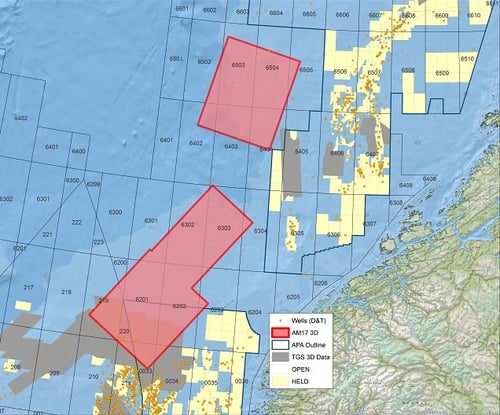 New regional structural understanding of part areas give indications of a new HC play including Lower Cretaceous pull-apart basins with high probability of unproven reservoirs and source rocks.
The project will use the broadband processing solution Clari-FiTM in combination with improved denoise and demultiple techniques and utilise TGS experience gained in the area.
Acquisition Highlights:
Anticipated duration: 2017 & 2018

Spread: 12 x 112.5m x 8100m

Triple Source: 12.5m shooting interval

Bin size: 6.25 x 18.75m

Streamer depth: 12m

Source depth: 7m