ARLAS -

Analytics Ready LAS!
Log curve prediction using the the world's most complete digital log library
Register today for a 20-minute session with our Product Experts at SEG 2019 in San Antonio, TX and discover how TGS predictive analytics are leading the way with Analytics Ready LAS (ARLAS)!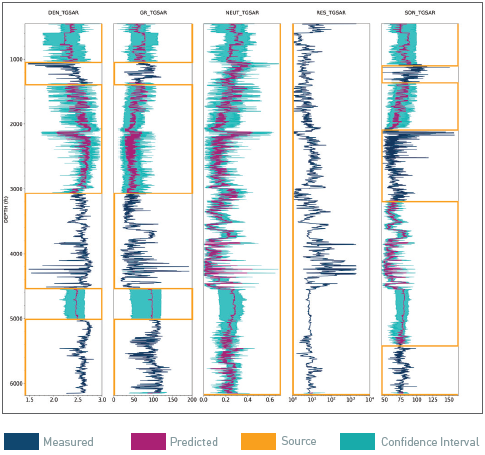 Our NEW Analytics Ready LAS uses machine learning algorithms to fill in gaps in log curves and calculate the curve response of missing log runs. Every well log can be transformed into a full Quad Combo equivalent log suite with as little as one available curve. Since TGS has more well logs than any other provider, we're able to provide full log suites for more wells than anyone else.
No matter what your role is, ARLAS helps solve your reservoir characterization problems:
Identify structure, stratigraphy, and porosity for field and basins

Characterize rock and fluid properties

Integrate large scale 3D models with near-wellbore modeling

Incorporate high sample rate drilling data to enhance log resolution
"The most useful application of the TGS ARLAS data for our company is the generation of complete sonic curves. We often struggle to find complete sonic curves within seismic coverage areas for synthetic generation. Because of the source, P5, and P95 curves, it is readily obvious what parts of the curves are actual versus predicted. The TGS Algorithms access a vast digital dataset (basin-wide) that we would never have at our disposal at a reasonable price when needed." – Emily Hartwick, Manager of Geology, Wolverine Gas & Oil Corporation