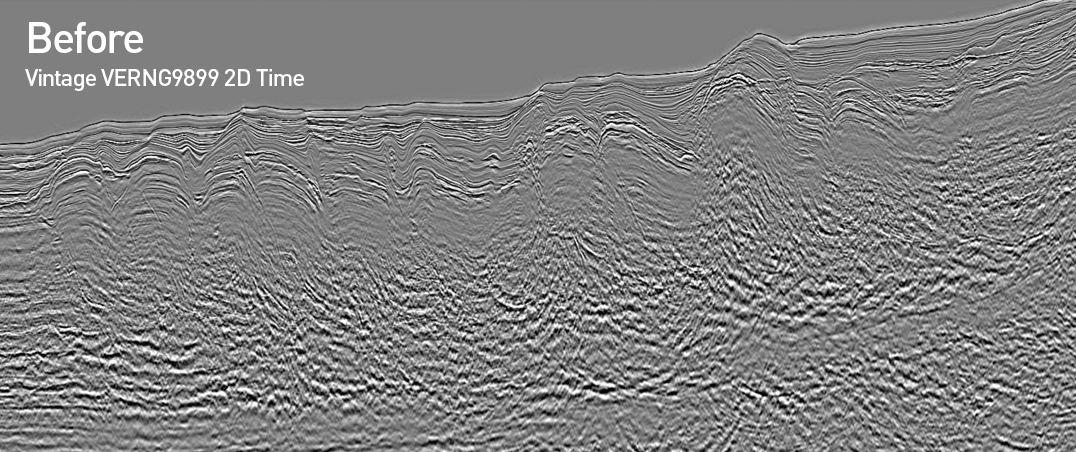 Reprocessing uplift comparison: Before (Vintage VERNG9899 2D Time) | After (70% Reprocessed NGRE19 2D Time)


Deepwater Potential
With significantly improved imaging of more than 17,000 km of recently reprocessed 2D seismic offshore Nigeria, TGS-PD data will enable a better understanding of the petroleum system of the deepwater offshore area. Our new depth imaging creates more accurate dip and realistic volume interpretation of features of interest. The potential for new license rounds over the deepwater open blocks, in conjunction with lower risk petroleum play concepts, could once again establish Nigeria as West Africa's flagship country for exploration.
More than ten currently producing fields in water depths of 1,000 m to 3,000 m confirm source rock presence and maturity in the deepwater region offshore Nigeria. These seem to not only prove that the Akata Shale formation can be mature for oil further outboard than the shelf, but also that there are feasible migration paths and trap charge scenarios in the distal part of the delta lobes. This makes prospects further outboard viable, such as those identified in the outer fold and thrust belt. Structural analyses on the fault and thrust patterns and detachment mechanisms of the margin slope show that there are various viable set-ups of charging several folds and thrusts along the slope. The geometry and timing of the toe thrust formation which detached on a most likely over-pressured regional shale formation allow substantial volumes to be charged downdip from the known discoveries and production locations.
Multibeam
Multibeam bathymetry and backscatter surveys provide a comprehensive view of the seafloor in a cost-effective and efficient way, and complement the traditional tools such as seismic, gravity and magnetics.
TGS has successfully completed the multibeam phase of its deepwater Nigeria acquisition project. Over 82,000 sq km of multibeam data was acquired at a water depth of between 750-3,500 meters and the company is currently high-grading the huge amount of anomolies identified in the data. The project is in partnership with the DPR, Nigeria, and using TGS' local joint venture company, TGS-Petrodata.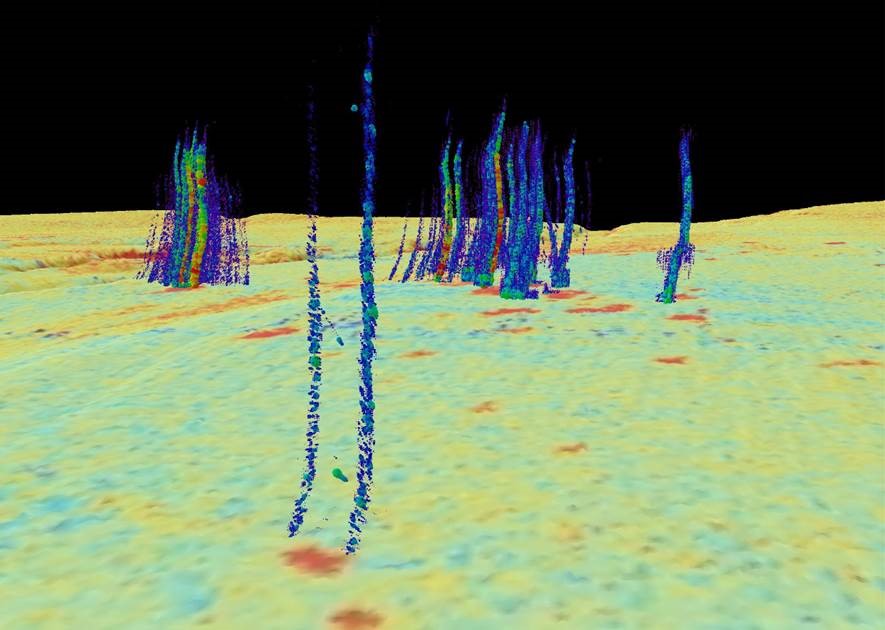 Water column anomalies identified offshore Nigeria, indicating gas escaping from the subsurface.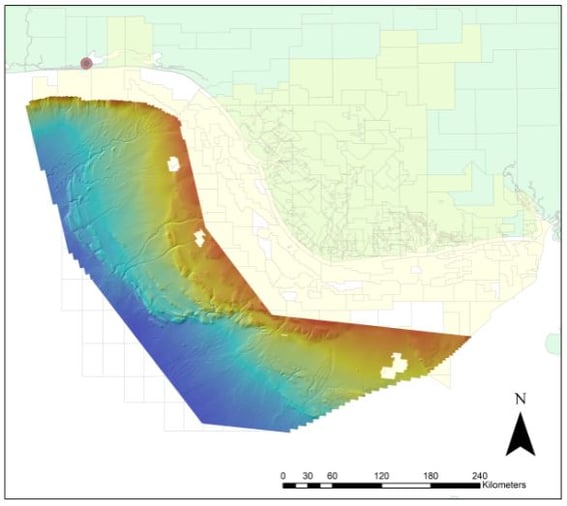 Final multibeam coverage shown as bathymetry. High-resolution bathymetry is part of the data package when the project is licensed.
New Technology Approach
As a next step in the deepwater exploration cycle, the de-risking of the source kitchen maturation and hydrocarbon migration paths is crucial. The seismic reflection imaging quality after Clari-Fi™ broadband reprocessing enables TGS-PD to consider new technologies such as Multi-beam and Seafloor Sampling (MB&SS) that provide geo-chemical data to de-risk plays by linking the mapped structures and modeled maturation scenarios for hydrocarbon sources sampled.