APA 2020
"In these challenging times it is important to plan for the future. Stable access to new acreage for petroleum exploration is key in order to develop our most important industry further, and to maintain the level of activity on the Norwegian Shelf."
Minister for Petroleum and Energy, Tina Bru
On 19 June 2020, the Norwegian Ministry of Petroleum and Energy confirmed the 36 blocks in this year's licensing round in the well-known parts of the Norwegian Continental Shelf – Awards in Predefined Areas (APA) 2020. The deadline to apply is 22 September 2020 at 12:00 and awards are expected during the first quarter of 2021.
Subsurface Data for Block Appraisal
TGS has an extensive library of 2D and 3D seismic data as well as other geophysical data types covering large parts of the APA 2020 areas, as well as in relevant cross border areas such as the UK North Sea, enabling interested parties to comprehensively evaluate regional geology and potential application areas.
This announcement of the availability of latest 36 blocks in the Norwegian Sea demonstrates that interest remains high in pushing the APA boundaries further west into the sub-basalt. TGS has undertaken extensive work in the area to solve the industry-wide imaging challenges as part of a three-year campaign to acquire data over the Atlantic Margin which has resulted in several new and recently reprocessed surveys including the AM20 survey which was announced in April 2020.
In addition, the area is covered by the J-Cube survey - the world's largest 2D
cube
d
project, a continuous and matching seismic 3D volume covering Norway, UK, Denmark, Netherlands and a part of Germany. The core of this dataset is our vast CFI-reprocessed long-offset 2D database that gives matching broadband imaging throughout this more than 1,000,000 km
2
of 3D volume.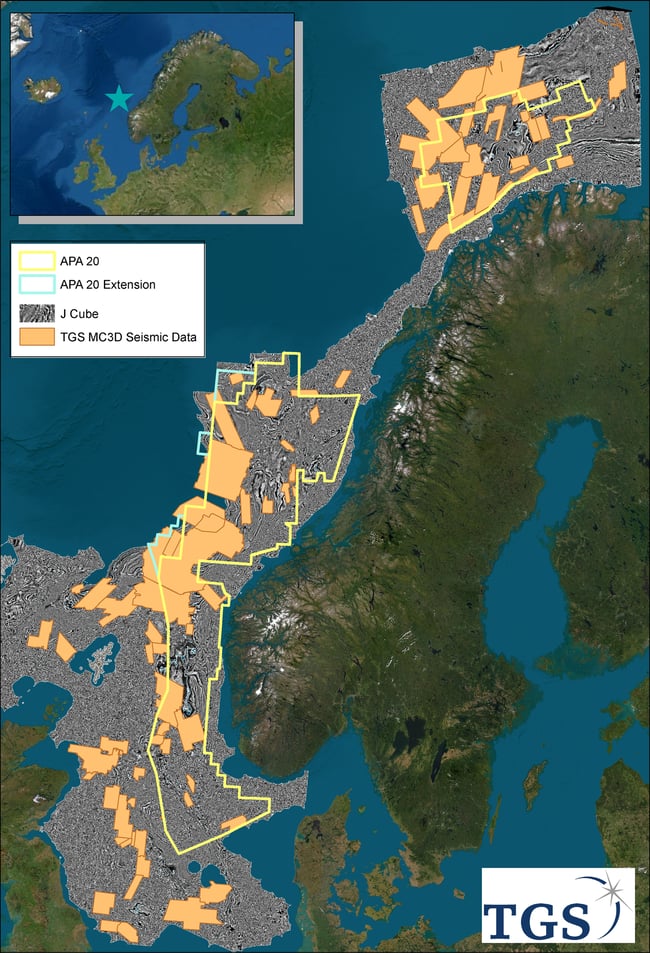 TGS modern 3D seismic covers much of the APA 2020 nominated acreage underpinned by the vast 2Dcubed coverage of the J-cube survey.
Long-Term Vision
The overall objective of Norway's petroleum policy is to provide a framework for profitable production of oil and gas in a long-term perspective through regular licensing rounds. In the latest of these rounds, APA 2020, a number of less-explored blocks have been included. Minister Tina Bru recently commented on this: "The APA rounds include large parts of the open, accessible part of the Norwegian Continental Shelf. Even after decades of activity, there are still opportunities in these areas. Due to new technology and a multitude of new players, I believe we will see new discoveries in the areas available in this year's APA round"
Since APA 2019, the predefined areas, knowns as the APA acreage, have increased by 36 blocks in the Norwegian Sea. Applications can be submitted for all available blocks or parts of blocks within these areas. Blocks or parts of blocks that become available less than 3 months prior to the application deadline, cannot be applied for.
That means that all acreage approved for relinquishment in the period up to three months prior to the application deadline is considered to be announced as of the application deadline. Relinquished areas are included on a continuous basis.
Background
Awards in Predefined Areas (APA) is one of two equal licensing rounds on the Norwegian continental shelf. The scheme was introduced in 2003 to facilitate exploration in geologically well-known parts of the Shelf.
The APA area includes the geologically most mature parts of the Norwegian continental shelf. The expected size of discoveries in such well-known areas is smaller. Exploration mainly focuses on smaller discoveries that would not justify an independent development but may be profitable if developed in conjunction with other discoveries and/or utilizing existing or planned infrastructure.