Brazil Offshore Licensing Rounds
Multi-Client Seismic For Upcoming Offshore Round Acreage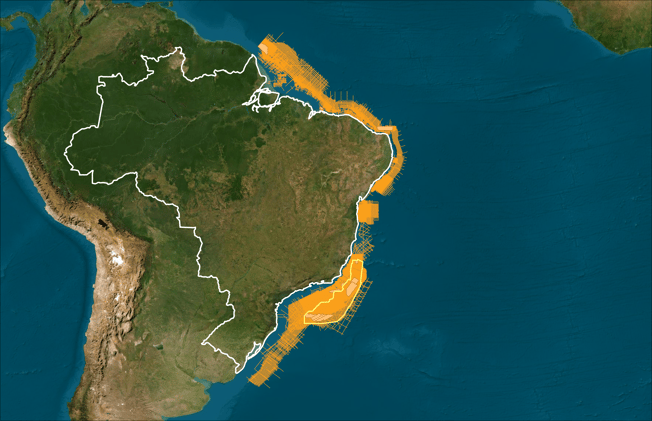 TGS 2D and 3D Coverage Offshore Brazil
With over 452,000 kilometers in 2D multi-client data and approximately 72,500 square kilometers in 3D multi-client data in Brazil, TGS seismic data covers every basin and sector associated with offshore Brazil licensing rounds. This library of modern, long-offset data, available in both time (PSTM) and depth (PSDM), comprises the largest and most comprehensive high-quality dataset offshore Brazil.
The Brazilian authorities are offering a range of exploration opportunities along their coastline ranging from time-limited licensing rounds to permanently open acreage and specialist pre-sale blocks. TGS data offers unique insight into these opportunities.
We invite you to discover more through our webinar series (free subscription required) and our interactive story map.

Below is a summary of the major basins and associated data coverage. For a full overview of the various acreage on offer in the Brazil Permanent Round, take a look at our story map.
Foz do Amazonas and Pará-Maranhão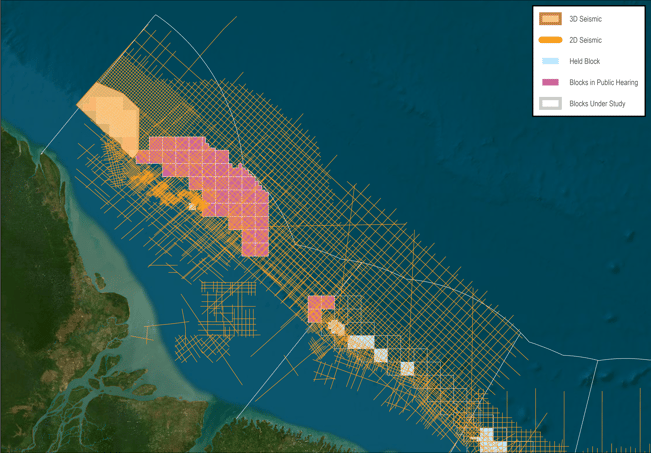 The Foz do Amazonas basin is the most northerly of the Brazilian equatorial margin basins, largely unexplored with exploration drilling confined to the shelf with 95 exploration wells drilled, 10 wells with hydrocarbon shows. To date, TGS offers a total of >130,000 km's of 2D long offset seismic, both recently acquired and processed or reprocessed using PreStack Time and Depth Migration (PSTM/PSDM) flows. In addition, we offer the Amazonas 3D which totals 11,335 km² 3D (Broadband PSTM & PSDM), as well as basin wide interpretations and a Facies Map Browser.
Ceará and Potiguar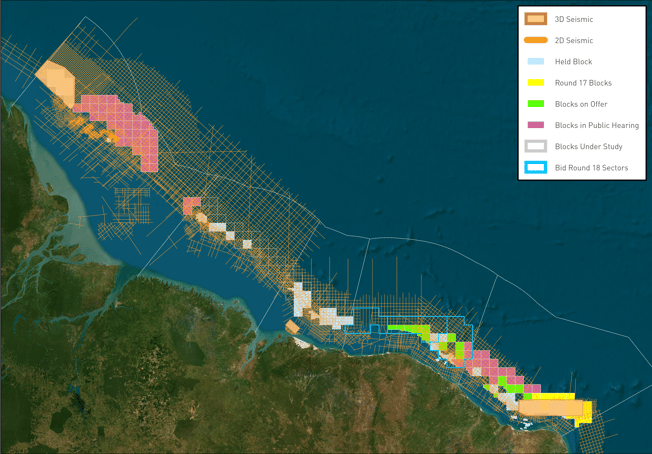 In addition to over 10,000 km of legacy data, over 17,200 km of modern, long offset data was acquired over the Ceará and Potiguar Basins in 2011- 2012 to chase both slope and deepwater post drift plays, and the thick syn-rift sections. Both basins have geological exploration successes, indicating a working petroleum system and potential deep water reservoirs. Play risk is removed by the Pecém and other wells of the Ceará Basin and the Pitu well of the Potiguar Basin. This 2D data was reprocessed in 2017, creating a superb regional dataset to assess the value of the 17th Licensing Round (2020/2021) and Permanent Round blocks.
Chosen datasets can be scaled for the maturity of the evaluation: a regional grid of 2D data for basin characterization, play potential recognition, and the presence of reservoir, seal, and source rocks.

Sergipe and Alagoas Basins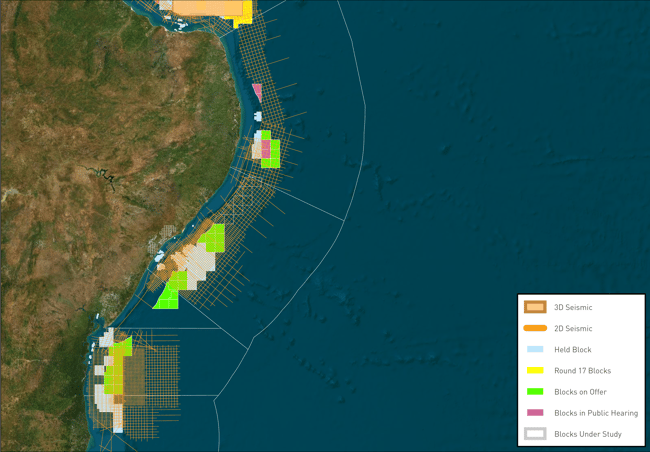 TGS offers 16,300 km of long offset 2D data in the Sergipe Basin. This data, and the 8,000 km of legacy data on the Sergipe shelf, underpin the plays into deeper water adjacent to the Petrobras blocks. This data has been depth processed to suit the complex structural geology of this basin and can be considered as the main hydrocarbon generating sub-basin.
The TGS Regional 2D seismic grid identifies the active petroleum system and multiple leads in the Sergipe-Alagoas Basin. Although several blocks have been purchased in recent Bid Rounds, including the First Permanent Round offering, other highly prospective blocks remain in upcoming Permanent Round being offered in 2020.
Santos and Campos Basins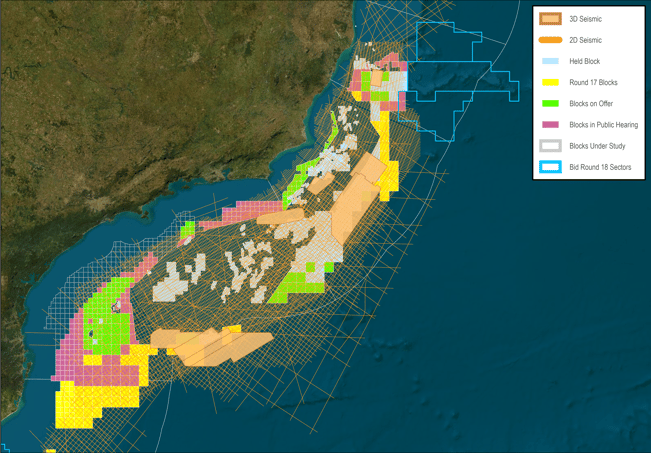 Santos and Campos basins make up a world-class petroleum province with cumulative production of more than two billion barrels. The 36 most productive wells average 27 Mbopd, with peaks of 42-45 Mbopd. One field alone, the Tupi Field, produces 800 Mbopd; half of all Brazilian production now comes from the pre-salt provinces of the Santos and Campos basins. Three fields (Tupi, Búzios and the Lara complex) can be classified as super-giants, and four other fields are classified as giants (Parque das Baleias, Mero, Sapinhoá, Lapa). Known discoveries are candidates for the super-giant and giant classification, and recently leased blocks contain very large prospects mapped on 2D and 3D seismic data, which are also candidates.
Multi-client 2D and 3D seismic surveys, acquired in the distal portions of the wide continental margins of the São Plateau (encompassing Santos and Campos basins), have unveiled giant four-way closed structures, previously unknown, presenting very favorable buildup seismic facies at the pre-salt reservoir level. The best reservoirs in the microbialite realm from producing wells have been shown to be these buildup facies. These huge pyramidal constructions, seismically transparent to chaotic, primarily comprise travertine deposits fed by hydrothermal solutions that percolate through normal faults beneath the buildups. These faults cut and controlled shallow hyper-saline lakes, where bacteria thrived and deposited extensive platforms of mats, resulting in travertine buildups composed of mixed abiotic-biotic carbonate rocks.
Pelotas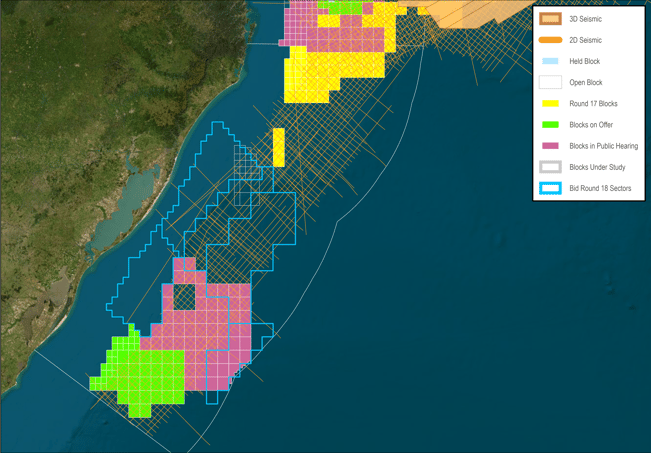 The Pelotas Basin is a volcanic passive margin basin spanning 400,000 sq. km offshore Brazil and Uruguay. Adjacent to the prolific Santos Basin, the Pelotas Basin is largely unexplored. Only ten wells have been drilled in the Pelotas Basin, nine in Brazil and the Raya-1 well in Uruguay; the Raya-1 and BPS-7 are the only deepwater wells. The BPS-7 well found thick Late Cretaceous turbidite sandstones, while the Raya-1 well did not get deep enough to test the Late Cretaceous turbidite play.
The 2D seismic covering the Pelotas Basin enabled our team to confidently map continuous horizons interpreted as stratigraphic sequences, source intervals, reservoir and seal units. Two major depocenters were recognized in the northern Pelotas Basin coinciding with the Round-17 Blocks. These depocenters have the burial depth to be mature hydrocarbon kitchens, with Albian/Aptian source rocks mature in both depocenters and Turonian source rocks mature in the southern depocenter. Several Cretaceous leads of stratigraphic or combined structural and stratigraphic nature, many with associated DHI's, have been identified throughout the Round-17 Blocks.