East Coast Canada

November 2020 Lease Sale
Sursurface Insight Ahead of the 2020 Eastern Newfoundland and Jeanne d'Arc Call for Bids.
In August 2019 the Canada-Newfoundland and Labrador Offshore Petroleum Board (C-NLOPB) issued a Call for Nominations (Parcels) to select offshore areas for consideration ahead of the 2020 Call for Bids. The regions of interest for this round are Eastern Newfoundland (Sector NL04-EN) and Jeanne d'Arc. Pending Board approval and ratification by the federal and provincial governments the Call will close in November 2020 with licenses awarded to successful bidders early 2021.
TGS, in partnership with PGS, holds the most comprehensive collection of subsurface data covering the 2020 Call for Bids in Eastern Newfoundland and Jeanne d'Arc. This data includes 2D and 3D seismic data, interpretation studies, facies mapping products and well data in and around the area.
Recent 3D seismic coverage is provided by the North Tablelands and Tablelands surveys in the south-eastern Orphan Basin in addition to the Jeanne d'Arc 3D and Cape Broyle 3D surveys which are also situated in the area. All have been specifically designed to provide detailed exploration insight into this highly prospective province which has already seen significant discoveries in nearby license blocks.
QI Provides New Subsurface Insight
A new fast-track Quantitative Interpretation (QI) driven by enhanced velocity modelling is now available from the joint TGS-PGS 2019 GeoStreamer survey acquired over the northern part of sector NL04-EN in Eastern Newfoundland. An additional QI volume from 2018 acquisition over the southern part of the sector, created using final full integrity data, is also available now.
The QI project is being driven by an improved velocity model provided through Full Waveform Inversion (FWI) over a select area of the Tablelands survey. The results enable a greater understanding of general lithology and fluid distribution at the reservoir level in addition to providing clarity on the numerous AVO-supported leads identified in this sector of Eastern Newfoundland.
During early 2020 a combined, continuous high-resolution seismic volume will be available for license covering both the Tablelands and North Tablelands surveys. In the meantime, the QI volumes are available separately.
Building on Recent Success
The 2020 Call for Bids is hoped to emulate the success of the 2019 edition which occurred in the same areas offshore East Canada. Here, ExxonMobil picked up a parcel in each of the SE Newfoundland and Jean d'Arc regions alongside a Suncor/Husky collaboration in the latter region.
For a full overview of available TGS subsurface data in this region, including seismic (in partnership with PGS) take a look at our Story Map.
---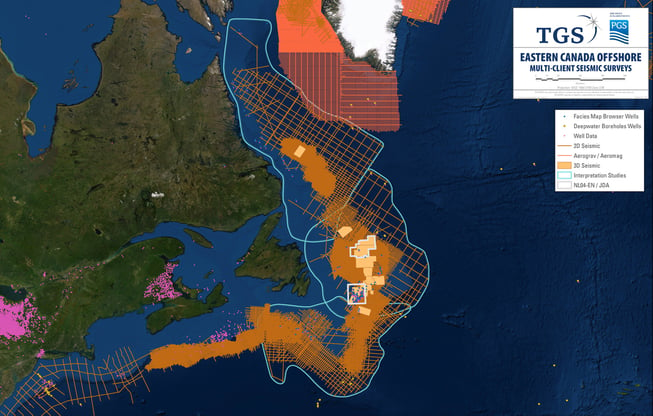 TGS holds 2D and 3D seismic data, interpretation studies, facies mapping products and well data in and around the area covered by the Call for Bids in the Jeanne d'Arc and South Eastern Newfoundland (NL04-EN) regions.
---
Prospectivity Insight
In October 2019 Nalcor Energy-Oil and Gas and Beicip-Franlab, in partnership with the Government of Newfoundland and Labrador, released the 2019 Oil and Gas Resource Assessment results which identified an additional 3 billion barrels of oil and 5.8 trillion cubic feet of gas potential offshore Newfoundland. The full report can be downloaded from the NALCOR website via this LINK.
---
2019 Lease Sale Results
Bid results were as follows:
2019 CALL FOR BIDS RESULTS NL19-CFB01
(EXPLORATION LICENCES, SOUTH EASTERN NEWFOUNDLAND REGION)
PARCEL
HECTARES
SUCCESSFUL BIDDERS
SUCCESSFUL BID AMOUNT
4
239,921
ExxonMobil Canada Ltd. (100%)
$10,135,948
Total Successful Bid Amount
$10,135,948
2019 CALL FOR BIDS RESULTS NL19-CFB02
(EXPLORATION LICENCES, JEANNE D'ARC REGION)
PARCEL
HECTARES
SUCCESSFUL BIDDERS
SUCCESSFUL BID AMOUNT
2
111,317
ExxonMobil Canada Ltd. (100%)
$10,449,996
3
76,737
Husky Oil Operations Limited (72.5%)
Suncor Energy Offshore Exploration
Partnership (27.5%)
$18,022,500
Total Successful Bid Amount
$28,472,496