Gulf of Mexico Lease Sale 256
Gulf of Mexico OCS Region
The U.S. Department of the Interior's Land and Mineral Management and Bureau of Ocean Energy Management (BOEM) have proposed a regionwide lease sale for 78 million acres in the federal waters of the Gulf of Mexico (GoM) November 18, 2020. Lease Sale 256 will include 14,755 unleased blocks in the Gulf's Western, Central and Eastern planning areas in vary water depths of 9 feet up to more than 11,000 feet.
Click here to view the results of Lease Sale 256.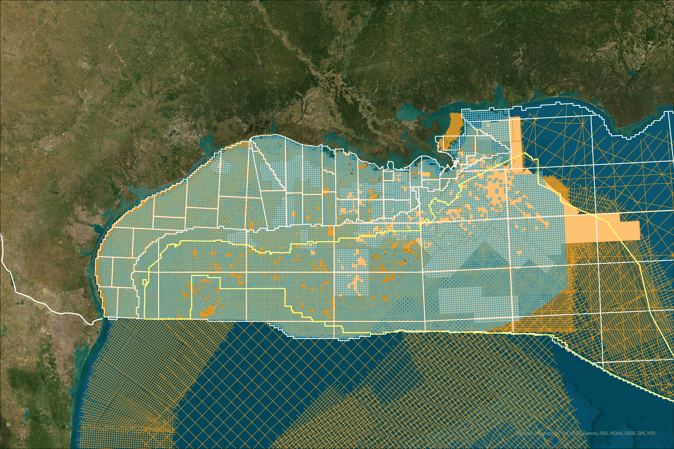 TGS has extensive 2D and 3D coverage over the GoM Lease Sale 256 area
TGS offers a wide variety of industry-leading subsurface Gulf of Mexico (GoM) data covering all the key blocks on offer in Lease Sale 256. This data expands the entire GoM and includes modern 3D surveys in key areas and 2D regional surveys. TGS also offers an extensive library of well log data, production and forecasting datasets, Multibeam Bathymetry, Geochemical Core Analysis and Post Well Analysis interpretation.
Gain the subsurface insights you need with our advanced imaging techniques and solutions
TGS continues to uplift imaging in the GoM through modern acquisition and reprocessing initiatives. Advanced imaging techniques are being developed and utilized to further illuminate key subsurface structures and reservoirs providing insight into new exploration prospects. New seismic projects, such as Engagement, Amendment Phase 1, Eastern Delta Refocus, and Declaration Refocus, will highlight a new era of exploration and development success. TGS data continues to assist E&P companies to gain a better understanding of both regional and reservoir scale geology, allowing the most effective evaluation of the license areas ahead of bid submissions.
This will be the seventh offshore sale under Interior's 2017-2022 OCS Oil and Gas Leasing Program. All terms and conditions for Gulf of Mexico Region-wide Sale 256 are detailed in the Proposed Notice of Sale (PNOS) information package, which is available at https://www.boem.gov/Sale-256. Due to the COVID-19 pandemic, bids are only being accepted by mail.